New and Patented:
The Kaleidoscope™ Collection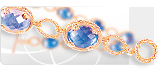 Diana Heimann has created an extraordinary new collection of gold jewelry that highlights her patented technique of layering colored stones to create new hues not generally seen in nature. As the angle of light changes, so does the color seen in the stone, bewitching the beholder.
Signature Style:


Diana Heimann



By carefully balancing each element of design - the choice of stone, the precise amount of detailing, the overall shape of the piece — Diana Heimann creates timeless jewelry that is fresh, trend-setting and completely original. Whether using gold, platinum, diamonds, pearls or colored stones, she makes jewelry that universally puts a sparkle in the eye of the viewer.
Where To See Us:
Modern Jeweler:
Jeff Prine discovers how the Kaleidoscope collection creates new colors.
InStyle Wedding:
InStyle frequently selects Diana's jewelry for its editorial pages. Here, two popular rings are selected for bridal.
Ugly Betty:
Diana's Jewelry is frequently worn by Vanessa Williams as character "Wilhelmina" on ABC's Ugly Betty